SD6 series high-pressure down-the-hole drill bits
SD6 series down-the-hole drill bits use high-quality steel and best-level alloy steel as raw materials. In terms of manufacturing, the drill bit adopts a special heat treatment process and advanced cemented carbide inserting technology to make the drill bit perform well even on hard rock formations. To play a role while saving energy.
SD6 series drill bit features
Long bit life:
Alloy steel material, its life is long, and higher than similar products.The drill bit uses impact and shear to break the rock, and the drilling speed is stable
High drilling efficiency:
The drill teeth are wear-resistant, so that the drill bit can always remain sharp, thus greatly increasing the speed of the teeth
Wide range of application:
The drill bit is suitable for drilling in soft, medium-hard and hard formations, and the drilling effect is particularly remarkable.
Good gauge effect:
The new diamond drill has strong wear resistance and good gauge performance, which can make the cutting teeth efficiently used
SD6 down-the-hole drill bit alloy tooth profile selection
Application: DTH drill bit side teeth, suitable for abrasive and very hard rock.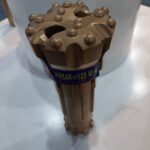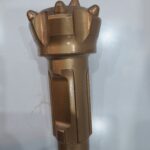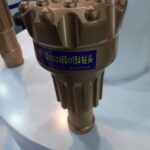 SD6 down-the-hole drill technical parameters
SD6 down-the-hole drill bit introduction
The SD6 down-the-hole drill bit adopts the strong combination of high-quality alloy and high-quality steel shell, and is equipped with advanced production technology, which avoids the phenomenon of alloy teeth and shell fracture that often occur in general products. It adopts full-pointed alloy and the drilling speed of the bit faster.
Mainly used in geological prospecting, coal mines, water conservancy and hydropower, highways, railways, bridges, construction, etc.
This bit product is the best bit in China. We have exported this bit to many countries and the feedback is very good. You are welcome to contact us if you need it. We can provide all series of heads and drilling tools.