ZGYX-415 DTH drilling rig Product features
drilling rig is a product developed by Zhigao machinery. This product is mainly developed for the open-pit mining industry. drilling rig has a high cost performance. ZGYX-415 down hole drilling rig is the version after upgrading and optimization of ZGYX-410E drilling rig. After collecting user use report, Zhigao research and development team has optimized and upgraded the walking parts, hydraulic system, propulsion beam, rotary head and overall fuselage of the drilling vehicle. After upgrading and optimization, drilling rig has stronger climbing ability, and will turn torque greatly, and the life of motor is extended, which can be applied in various open-pit mining environments.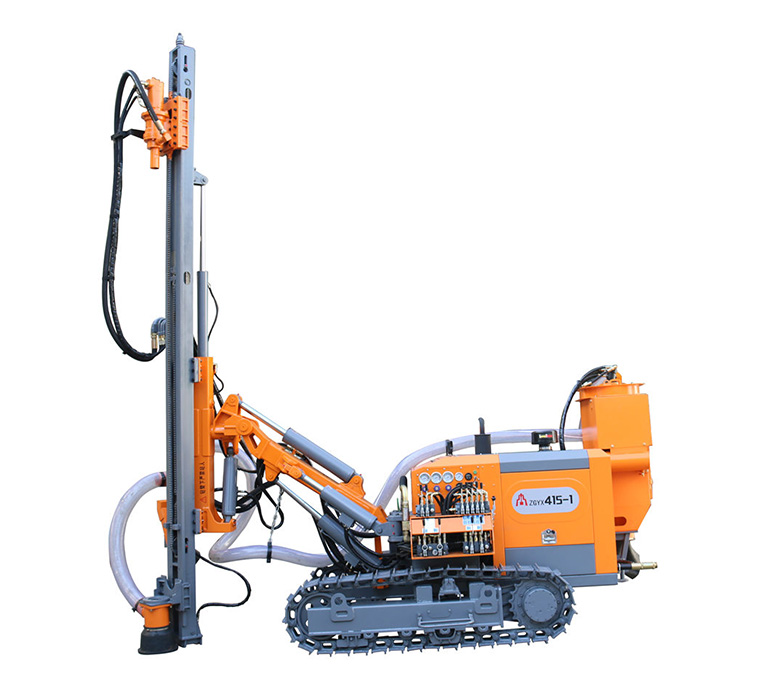 ZGYX-415 DTH drilling rig Configuration introduction
ZGYX-415 open-air DTH drilling rig is equipped with a single motor with large displacement, which is small in volume and large in torque. It can be adjusted according to the actual construction situation when rotating, which can effectively improve the footage efficiency of the impactor.
open-air DTH drilling rig focuses the control function on the console, which provides convenience for operation, effectively improves the working efficiency of DTH drilling rig, and improves the safety and sense of use of the equipment.
Main technical specifications
| | |
| --- | --- |
| Transportation Length | 5500mm |
| Width | 2000mm |
| Transportation Height | 2100mm |
| Machine weight | 4500kg |
| Gradient | 25° |
| Tramming speed | 2.5km/h |
| Hole dia | 90-115mm |
| Rotation torque | 1850N.m |
| Rotation speed | 0~110r/min |
| Feed type | Chain/cylinder |
| Feed force | 15KN |
| Lift force | 20KN |
Diesel Engine Specifications
| | | |
| --- | --- | --- |
| Rig Model | Engine Model | Rated Power |
| ZGYX-415 | Yuchai YCD4R12T-70 | 50KW |
| ZGYX-415-1 | Yuchai YCD4R22T-80 | 59KW |
ZGYX-415 drilling rig has the appearance atmosphere and is equipped with 3-meter long drill pipe propulsion beam. Compared with other types of drilling machines, ZGYX-415 drilling machine has deeper and wider drilling hole, which greatly improves the working efficiency of the drilling rig. In addition,ZGYX-415 down hole drilling machine is all made of plunger traveling motor. The crawler plate is poured by special technology, and the walking ability is stronger and the quality is excellent and stable. ZGYX-415 drilling rig adopts the dry dust removal system developed by Zhigao company, which is both efficient and environmental protection during the use.