water well drilling rig product features
Multi-function full hydraulic control, the top-mounted power head drives and rotates, and the drilling efficiency is high.
The water well drilling machine has a compact layout and small size.
The drilling rig is equipped with a 90-kilowatt engine and a 50/50/25 gear hydraulic oil pump.
The main engine adopts crawler self-propelled, TM09 walking motor and four-wheeled excavator.
The composite telescopic sliding frame of the drilling rig greatly reduces labor intensity and improves construction efficiency and engineering quality.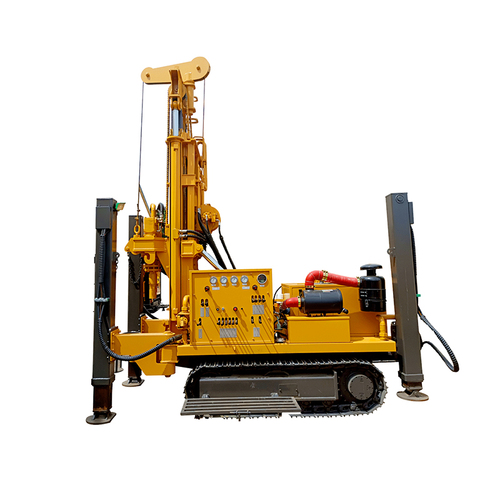 product picture
Product parameter
| technical parameter | unit | XQ300B | XQ300S | XQ400S | XQ500S | XQ600S |
| --- | --- | --- | --- | --- | --- | --- |
| Maximum borehole depth | M | 300 | 300 | 400 | 500 | 600 |
| borehole diameter | mm | 105-273 | 105-305 | 105-325 | 105-325 | 105-325 |
| Air pressure | Mpa | 1.2-3.5 | 1.2-3.5 | 1.2-3.5 | 1.2-3.5 | 1.2-3.5 |
| Rod length | m | 3 | 3 | 3 | 3 | 3 |
| Rod diameter | mm | 76-89 | 76-89-102 | 89-102-114 | 89-102-114 | 89-102-114 |
| Main shaft pressure | T | 5 | 5 | 5 | 5 | 8 |
| Lifting force | T | 16 | 20 | 20 | 24 | 24 |
| Power Head Trip | M | 3.6 | 3.6-4.6 | 6.6 | 6.8 | 6.6 |
| Max rotary torque | Nm | 6500 | 8800 | 8800 | 8800 | 11000 |
| Max rotary speed | r/min | 100 | 100 | 100 | 100 | 100 |
| Secondary winch lifting force | T | 2 | 2 | 3 | 5 | 3/5 |
| Jacks stroke | m | 1.3 | 1.5 | 1.5 | 1.5 | 1.5 |
| Moving speed | km/h | 2.5 | 2.5 | 2.5 | 2.5 | 2.5 |
| Uphill angle | ° | 21 | 21 | 21 | 21 | 21 |
| Weight of the rig | T | 5.5 | 7.5 | 8.8 | 10.28 | 13 |
| The engine | kw | 90 | 92 | 92 | 153 | 191 |
| Overall dimensions | mm | 2400*1350*2000 | 3600*1500*2300 | 3700*1600*2350 | 5700*1900*2400 | 5700*2000*2500 |