ZGYX-420SC bolter is a kind of drilling rig produced by Zhigao tunneling company. It can switch power at any time and has a better sense of use.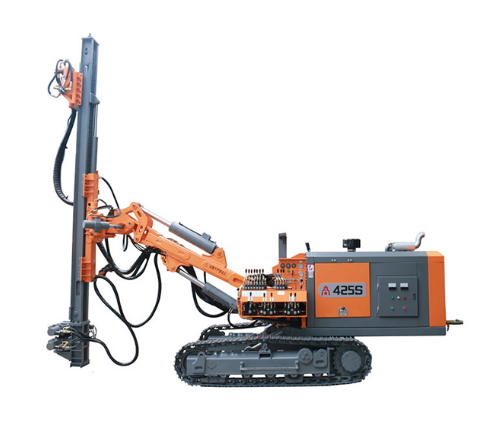 Main Specifications
| | |
| --- | --- |
| Hole dia | 105-203mm |
| Drill pipe | φ76*3m |
| Hammer | HD45A |
| Hole depth | 60m |
Hole Range
| | |
| --- | --- |
| Model | YCD4R22T-80 |
| Maker | Yuchai |
| Rated power | 56kW |
| RPM | Max.2000rpm |
Diesel Engine
| | |
| --- | --- |
| Tramming speed | 2.5km/h |
| Gradient | 25° |
| Traction force | 6KN |
| Ground clearance | 430mm |
Tramming
Product Feadtures
ZGYX-420SC bolter is equipped with Yuchai four cylinder YC4D80 and motor 55kW. The machine is equipped with 76mm diameter three meter long drill pipe or a variety of twist drill pipe. Diesel and electric dual-purpose power, drilling rig in the process of operation can be freely switched, convenient operation, but also improve the working efficiency of the drilling rig.
ZGYX-420SC anchor drilling rig body has high torque double cycloidal motor, double cycloid motor drives rotary head device, this design can effectively reduce the probability of failure of the original machine body motor, effectively ensure the working efficiency and service life of the drilling rig, and reduce the original bulky volume of the motor.
The maximum torque of the machine body can reach 5600N. m, so the drilling aperture range of the drill is enlarged.
| | |
| --- | --- |
| Rotation torque | 5600N.m |
| Rotation speed | 60-160r/min |
Rotary Head
ZGYX-420SC anchor drilling rig can be widely used in foundation pit anchor rod, root pipe and large diameter twist drill pipe. The fuselage of the model is equipped with standard plunger motor, and the crawler adopts international construction machinery. It can effectively ensure the smooth climbing of the drilling rig and ensure the overall quality of the drilling rig. In addition, the rig can also be equipped with a rod unloading device, so that the safety and quality of the drilling rig can be improved as a whole, and the sense of use of the drilling rig is also improved.