ZGYX-452 integral surface down the hole drill is produced by Zhigao tunneling company. It is a kind of drilling machine with high cost performance and low price.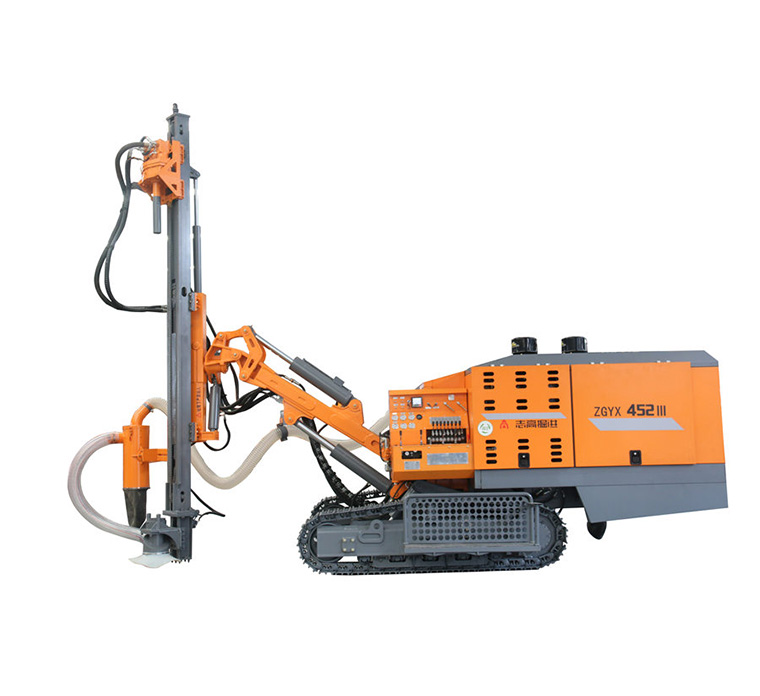 Product features
The main advantage of ZGYX-452 integrated down the hole drilling rig is energy saving. In terms of power, the drilling rig uses a single power to drive the screw air compressor and the hydraulic system of the drilling rig at the same time. Compared with the split type drilling machine, the comprehensive oil consumption can be saved by 35%, and the maintenance cost of the drilling rig will also be reduced by 50%.
ZGYX-452 integral DTH drilling rig is equipped with double hydraulic traveling mechanism, which can walk smoothly and quickly, and has strong cross-country ability. The rotary torque of the motor equipped with the body of the energy-saving drilling rig is large, which can reduce the problems of drilling rig sticking in the working process, and make the construction work smoothly.
Main technical specifications of zgyx-452
| | | | |
| --- | --- | --- | --- |
| Hole Range | 108~127mm | DTH hammer | 4″标配Standard |
| Hole Depth | 20m | Rotation Speed | 0~100r/min |
| Drill Pipe Diameter | 76mm 89mm 选配 Option | Rotation Torque | 1983 N.m |
In terms of dust collection device,ZGYX-452 integrated down the hole drilling rig adopts two-stage dry dust collection device, which effectively ensures the environmental protection of the drilling rig in the working process, and thus improves the production efficiency of the drilling rig. The machine is equipped with an integrated console with clear functions, which is convenient for workers to operate the rig.
The core hydraulic components of ZGYX-452 down the hole drilling rig are all imported from Europe. The high-quality hydraulic system effectively reduces the maintenance of the drilling system, which is convenient and practical. In terms of design, the drilling rig is designed with integrated technology, which effectively solves the problems existing in the remote management process of engineering, mine air compressor and drilling rig.